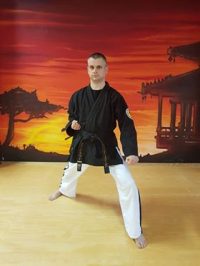 David Van der Schoepen Sensei started Tai Jutsu in 1992 as a student of Jean Pierre van Vré Sensei.
After two trips to Japan in 2005 and 2007, he obtained his black belt Tai Jutsu in 2010.
In the meanwhile, David Sensei also qualified in Seishinkai Ju Jutsu under Kyoshi Tony Van Venrooy and obtained in 2018 the "Shodan" level.
After the start of "Budoschool Kempen vzw" in 2011, David Sensei travelled all around Europe with Shihan Jean Pierre as his assistant and often as Sensei for junior level  Budoka.
David Sensei will be one of the three superb Sensei in this first "Junior GoR" edition.