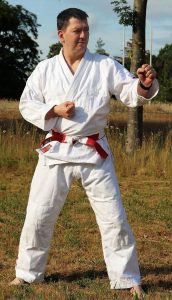 Steven Sensei started with ju-jitsu in 1986 in the Belgium Ju-Jitsu Federation (BJJF), that later was renamed into the Flemish Ju-Jitsu Federation (VJJF).
For many years, he also practised Wado Ryu Karate and Judo to get a 360° experience and expertise in his preferred style of Ju-Jitsu.
Steven Sensei is also very active in the other domains of martial arts:
Flemisch School for Trainers / 'Vlaamse Trainersschool (VTS)' Trainer A – since 2005
Lecturer for VTS – since 2008
Federal Supervisor for the Ju-Jitsu style 'FVH' – since 1994
Chairman of the Technical Commission style 'FVH-opening System' – since 2008
He obtained his 1st Dan Ju-Jitsu in 1992 and now holds a 7th Dan Ju-Jitsu since 2016.
Steven Sensei will be one of the three superb Sensei in this first "Junior GoR" edition and is well known for his genius teaching approaches … as our young Guardians will surely experience.