Czesław Stankiewicz Sensei was born in Poland on May 20, 1965.
In 1980 he took his first steps in martial arts in Shotokan karate.
Twenty years later, in 2000, he started teaching Aikijujutsu under the general lead of Kyoshi Jan Janssens and Koryu Karate Jutsu Jissen Ryu under Kyoshi Hubert Laenen.
Czeslaw Sensei owns a private Dojo in Lubaczow and has taught several seminars throughout Poland.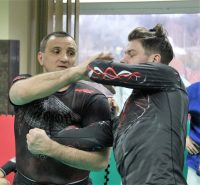 Currently, Czeslaw Sensei holds the following master degrees:
7 dan Koryu Karate Jutsu – Shibucho Europe
6 dan Traditional Fudokan Karate
5 dan Aikijujutsu Kobukai
3 dan Traditional Karate ITKF