The "Guardians of Ryukyu" Weekend

The registration links are at the bottom of this page.
---
Some 'heads up' before proceeding to the registration pages:
During the GoR weekend  the main languages used will be

English

and Dutch, the staff members are able to speak other languages in case of emergency or specific needs.

The

Junior GoR

event will be hosted by Dutch speaking Sensei.

T

here are minimal age limits set

due to the nature of the approaches during the seminar, but rest asured … we had a zero injury score during the last seminars.

The Junior GoR Seminar: 8 till 14 years;
The Main GoR Seminar: +12 years; (bring your training weapons with you)
The Kyusho Jutsu Seminar: +18 years, minimum brown belts.

Registrations for the events and the catering on Saturday that follow are all "one person only" reservations. ​

 If you want to reserve a group, please contact us via the contact form.

Online registrations close October 30th 23:59.

Catering services on Saturday November 2nd only:

You can pre-order catering services for the lunch on

Saturday

(11:50u – 12:45u) and/or dinner (19:00u – …) the same way as your reservation, just return to this tab/page and click on the "Catering Services" link after your subscription for the main or junior GoR.

Lunch: The sandwich spread is basically a length of bread split lengthwise and filled with a variety of vegetables and condiments. Make your selection in the available variations and post a comment if you have a special request. One (1) beverage is included in this option.
Dinner: Following last years success, we again provide you the possibility to join in on a traditional Belgian meal with all the GoR Sensei, participants and staff members. Drinks are NOT included in this option, but make sure not to miss out on our excellent variety of Belgian bears available during this meal 🍺.

We offertwo ways to pay  to ensure your individual participation.  ​

Direct onsite payment using PayPal, this is the easiest and fastets way and as a result, your seat/catering will be reserved immediately;
Offsite payment using a self-initiated regular bank transfer. Details will be emailed, so make sure you enter your correct email address. Attention: Reservations that were not paid in full before October 30th, will become available again for "on seminar" registrations, meaning your reservation will be cancelled!
There will be no reimbursements of payments via either channel

The organization cannot be held responsible for thefts, damages, injuries, etc. before, during and after the seminar. A limited set of lockers  is available using a 1,00 EURO recoverable coin.
If you do not have an

insurance coverage 

to participate in events like this, we can offer you a 'One Day Insurance' at the cost of 1,00 EURO/day.
​Still some questions?
​Please use the contact form to convey us your questions, we will get back to you ASAP.
---
Let's go!
Remark: For security reasons the actual registration forms will be loaded in a new browser tab or window.
Click on the seminar you wish to register for:
---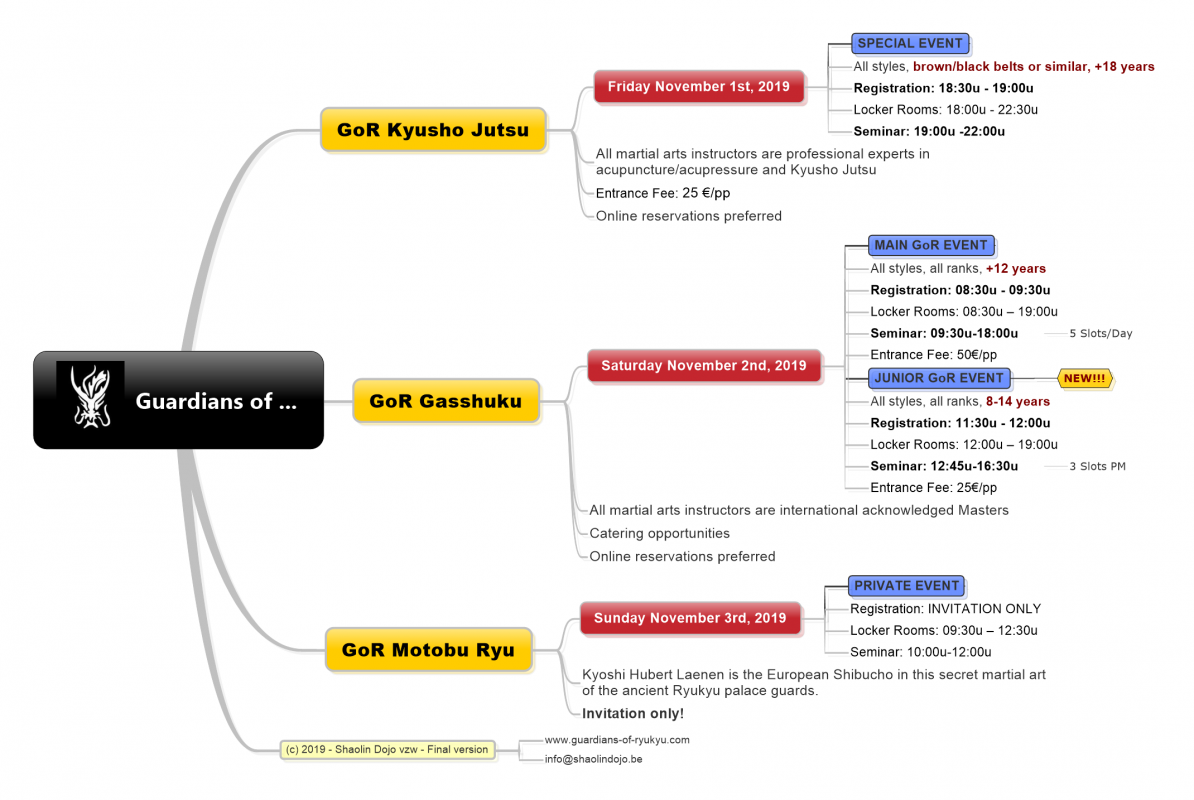 ---
© 2019 The "Guardians of Ryukyu" ™